We may be looking at Christmas this year without office parties, celebrations with friends and with no extended gatherings so it's probably more important now than previous years to ensure you're in touch with your clients and colleagues.
Sending personalised Christmas cards has always been a festive tradition and this year we've seen an increase in demand, here's why:
 1. They offer a personal touch in a digital age:
When we're all used to seeing the same holiday greetings on social media. It's just too easy to send a mass-message to all of your business contacts which doesn't make it personal at all.
With a hand-written corporate Christmas card, you're showing your clients, prospects and colleagues that you care.
You've designed your own branded Christmas card, spent time with a personalised message and posted by hand. All this adds sentimental value and making a huge difference in how your prospects will view you and your business.
2. They provide great exposure for your business:
The earlier you send your Christmas cards, the longer they're on display!
Sending your Christmas cards towards the end of November can ensure that they're on your client's desks for the entirety of the festive season. Making them a great way to increase your brand exposure.
The same can be said about branded Advent Calendars, 31 days of the year they'll be on your client's desk.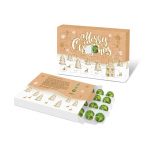 3. Branded Christmas cards offer a physical presence in an isolated time:
Without the usual physical connection, a customised Christmas card provides the next best thing to reconnect with your clients in person.
When you send a Christmas card in the post, you're providing your clients with a physical experience and a reminder that you are thankful for their custom over the past year.
4. It shows your clients that you are real people:
In a time of virtual meetings, delivering customer service through emails and taking orders online, corporate Christmas cards can serve as a reminder that you're a real business made of real people.
Writing a personalised note to your most important contacts is a great way to humanise your brand and add an individualized touch to your festive greetings.
5. They improve your customer loyalty:
Let's be honest you don't send a Christmas card to everybody you know.
A corporate Christmas card is a sign of a long-lasting relationship with your clients. By showing your clients that you appreciate their business, they are much more likely to return and use your products/services in the new year.
Find out More.
With Christmas being a little different this year, branded Christmas cards and indeed corporate gifts can provide you with the perfect way to ensure you're still connecting with your clients in what has been, for all of us a challenging year.
Contact us by calling 01234 344317 or email: [email protected]. We'll happily assist you in designing and printing your corporate Christmas cards or branded corporate gifts for 2020.